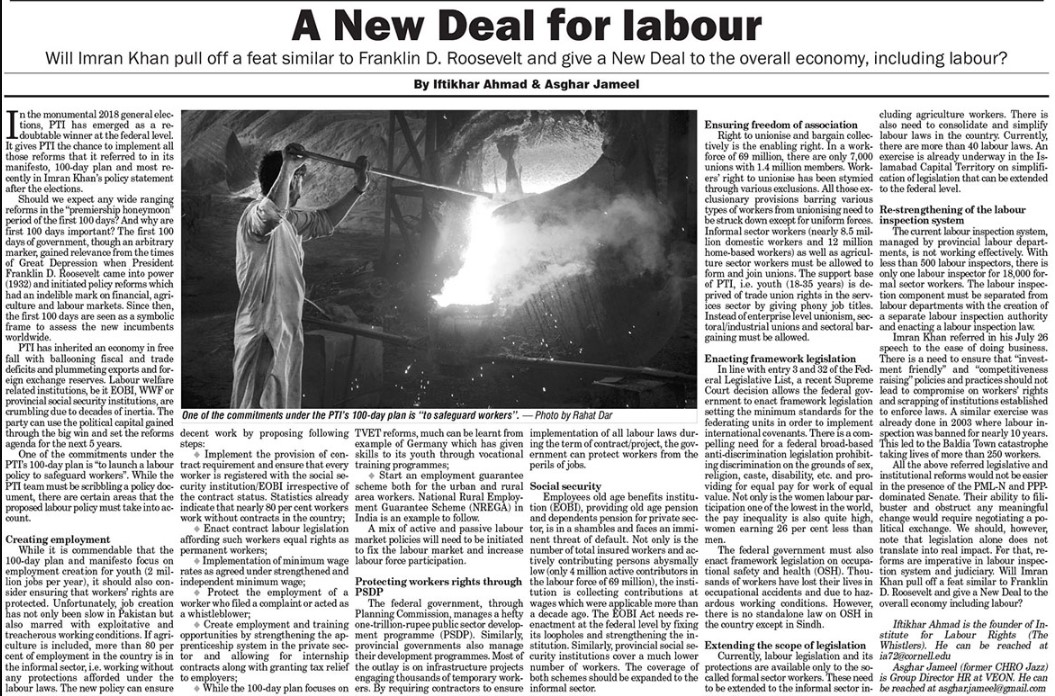 The article recommends protection of the right to freedom of association, right to social protection, extension of the scope of labour legislation to the uncovered sectors, enactment of framework legislation at the federal level and re-strengthening of labour inspection. While commending the hashtag#PTI's proposal to create 2 million jobs per year, we suggest certain steps to ensure that these jobs turn into productive and gainful employment, i.e. hashtag#decentwork.
---
Will Imran Khan pull off a feat similar to Franklin D. Roosevelt and give a New Deal to the overall economy, including labour?
In the monumental 2018 general elections, PTI has emerged as a redoubtable winner at the federal level. It gives PTI the chance to implement all those reforms that it referred to in its manifesto, 100-day plan and most recently in Imran Khan's policy statement after the elections.
Should we expect any wide ranging reforms in the "premiership honeymoon" period of the first 100 days? And why are first 100 days important? The first 100 days of government, though an arbitrary marker, gained relevance from the times of Great Depression when President Franklin D. Roosevelt came into power (1932) and initiated policy reforms which had an indelible mark on financial, agriculture and labour markets. Since then, the first 100 days are seen as a symbolic frame to assess the new incumbents worldwide.
PTI has inherited an economy in free fall with ballooning fiscal and trade deficits and plummeting exports and foreign exchange reserves. Labour welfare related institutions, be it EOBI, WWF or provincial social security institutions, are crumbling due to decades of inertia. The party can use the political capital gained through the big win and set the reforms agenda for the next 5 years.
One of the commitments under the PTI's 100-day plan is "to launch a labour policy to safeguard workers". While the PTI team must be scribbling a policy document, there are certain areas that the proposed labour policy must take into account.
Creating employment
While it is commendable that the 100-day plan and manifesto focus on employment creation for youth (2 million jobs per year), it should also consider ensuring that workers' rights are protected. Unfortunately, job creation has not only been slow in Pakistan but also marred with exploitative and treacherous working conditions. If agriculture is included, more than 80 per cent of employment in the country is in the informal sector, i.e. working without any protections afforded under the labour laws. The new policy can ensure decent work by proposing following steps:
Implement the provision of contract requirement and ensure that every worker is registered with the social security institution/EOBI irrespective of the contract status. Statistics already indicate that nearly 80 per cent workers work without contracts in the country;

Enact contract labour legislation affording such workers equal rights as permanent workers;

Implementation of minimum wage rates as agreed under strengthened and independent minimum wage;

Protect the employment of a worker who filed a complaint or acted as a whistleblower;

Create employment and training opportunities by strengthening the apprenticeship system in the private sector and allowing for internship contracts along with granting tax relief to employers;

While the 100-day plan focuses on TVET reforms, much can be learnt from example of Germany which has given skills to its youth through vocational training programmes;

Start an employment guarantee scheme both for the urban and rural area workers. National Rural Employment Guarantee Scheme (NREGA) in India is an example to follow.
A mix of active and passive labour market policies will need to be initiated to fix the labour market and increase labour force participation.
Protecting workers rights through PSDP
The federal government, through Planning Commission, manages a hefty one-trillion-rupee public sector development programme (PSDP). Similarly, provincial governments also manage their development programmes. Most of the outlay is on infrastructure projects engaging thousands of temporary workers. By requiring contractors to ensure implementation of all labour laws during the term of contract/project, the government can protect workers from the perils of jobs.
Social security
Employees old age benefits institution (EOBI), providing old age pension and dependents pension for private sector, is in a shambles and faces an imminent threat of default. Not only is the number of total insured workers and actively contributing persons abysmally low (only 4 million active contributors in the labour force of 69 million), the institution is collecting contributions at wages which were applicable more than a decade ago. The EOBI Act needs re-enactment at the federal level by fixing its loopholes and strengthening the institution. Similarly, provincial social security institutions cover a much lower number of workers. The coverage of both schemes should be expanded to the informal sector.
Ensuring freedom of association
Right to unionise and bargain collectively is the enabling right. In a workforce of 69 million, there are only 7,000 unions with 1.4 million members. Workers' right to unionise has been stymied through various exclusions. All those exclusionary provisions barring various types of workers from unionising need to be struck down except for uniform forces. Informal sector workers (nearly 8.5 million domestic workers and 12 million home-based workers) as well as agriculture sector workers must be allowed to form and join unions. The support base of PTI, i.e. youth (18-35 years) is deprived of trade union rights in the services sector by giving phony job titles. Instead of enterprise level unionism, sectoral/industrial unions and sectoral bargaining must be allowed.
Enacting framework legislation
In line with entry 3 and 32 of the Federal Legislative List, a recent Supreme Court decision allows the federal government to enact framework legislation setting the minimum standards for the federating units in order to implement international covenants. There is a compelling need for a federal broad-based anti-discrimination legislation prohibiting discrimination on the grounds of sex, religion, caste, disability, etc. and providing for equal pay for work of equal value. Not only is the women labour participation one of the lowest in the world, the pay inequality is also quite high, women earning 26 per cent less than men.
The federal government must also enact framework legislation on occupational safety and health (OSH). Thousands of workers have lost their lives in occupational accidents and due to hazardous working conditions. However, there is no standalone law on OSH in the country except in Sindh.
Extending the scope of legislation
Currently, labour legislation and its protections are available only to the so-called formal sector workers. These need to be extended to the informal sector including agriculture workers. There is also need to consolidate and simplify labour laws in the country. Currently, there are more than 40 labour laws. An exercise is already underway in the Islamabad Capital Territory on simplification of legislation that can be extended to the federal level.
Re-strengthening of the labour inspection system
The current labour inspection system, managed by provincial labour departments, is not working effectively. With less than 500 labour inspectors, there is only one labour inspector for 18,000 formal sector workers. The labour inspection component must be separated from labour departments with the creation of a separate labour inspection authority and enacting a labour inspection law.
Imran Khan referred in his July 26 speech to the ease of doing business. There is a need to ensure that "investment friendly" and "competitiveness raising" policies and practices should not lead to compromise on workers' rights and scrapping of institutions established to enforce laws. A similar exercise was already done in 2003 where labour inspection was banned for nearly 10 years. This led to the Baldia Town catastrophe taking lives of more than 250 workers.
All the above referred legislative and institutional reforms would not be easier in the presence of the PML-N and PPP-dominated Senate. Their ability to filibuster and obstruct any meaningful change would require negotiating a political exchange. We should, however, note that legislation alone does not translate into real impact. For that, reforms are imperative in labour inspection system and judiciary. Will Imran Khan pull off a feat similar to Franklin D. Roosevelt and give a New Deal to the overall economy including labour?
The article was published on 5

August 2018

by the The News.
By

Iftikhar Ahmad ,
Asghar Jameel (former CHRO Jazz) is Group Director HR at VEON