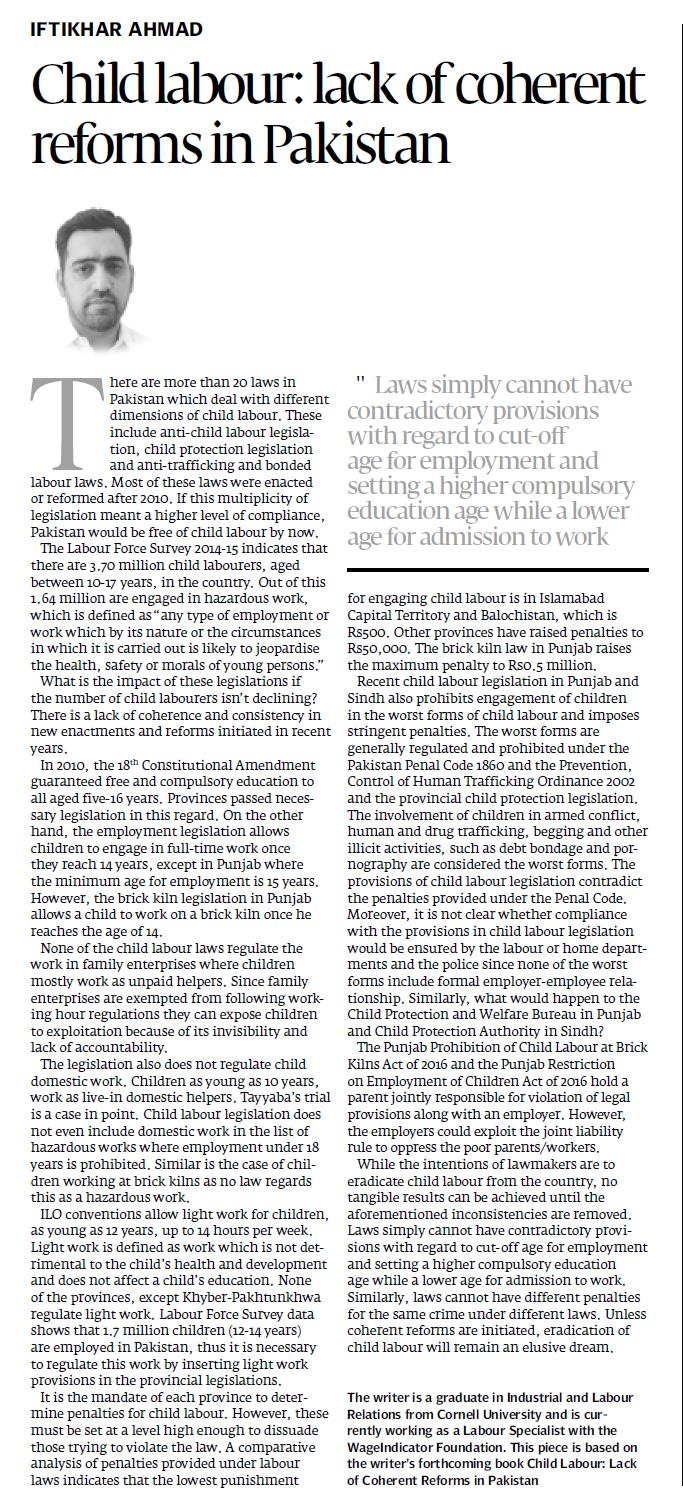 The article was published on 1

July 2017

by the

The Express Tribune

.
There are more than 20 laws in Pakistan which deal with different dimensions of child labour. However, they lack coherence. And unless this incoherence is removed, eradication of child labour is not possible.
---
There are more than 20 laws in Pakistan which deal with different dimensions of child labour. These include anti-child labour legislation, child protection legislation and anti-trafficking and bonded labour laws. Most of these laws were enacted or reformed after 2010. If this multiplicity of legislation meant a higher level of compliance, Pakistan would be free of child labour by now.
The Labour Force Survey 2014-15 indicates that there are 3.70 million child labourers, aged between 10-17 years, in the country. Out of this 1.64 million are engaged in hazardous work, which is defined as "any type of employment or work which by its nature or the circumstances in which it is carried out is likely to jeopardise the health, safety or morals of young persons."
What is the impact of these legislations if the number of child labourers isn't declining? There is a lack of coherence and consistency in new enactments and reforms initiated in recent years.
In 2010, the 18th Constitutional Amendment guaranteed free and compulsory education to all aged five-16 years. Provinces passed necessary legislation in this regard. On the other hand, the employment legislation allows children to engage in full-time work once they reach 14 years, except in Punjab where the minimum age for employment is 15 years. However, the brick kiln legislation in Punjab allows a child to work on a brick kiln once he reaches the age of 14.
None of the child labour laws regulate the work in family enterprises where children mostly work as unpaid helpers. Since family enterprises are exempted from following working hour regulations they can expose children to exploitation because of its invisibility and lack of accountability.
The legislation also does not regulate child domestic work. Children as young as 10 years, work as live-in domestic helpers. Tayyaba's trial is a case in point. Child labour legislation does not even include domestic work in the list of hazardous works where employment under 18 years is prohibited. Similar is the case of children working at brick kilns as no law regards this as a hazardous work.
ILO conventions allow light work for children, as young as 12 years, up to 14 hours per week. Light work is defined as work which is not detrimental to the child's health and development and does not affect a child's education. None of the provinces, except Khyber-Pakhtunkhwa regulate light work. Labour Force Survey data shows that 1.7 million children (12-14 years) are employed in Pakistan, thus it is necessary to regulate this work by inserting light work provisions in the provincial legislations.
It is the mandate of each province to determine penalties for child labour. However, these must be set at a level high enough to dissuade those trying to violate the law. A comparative analysis of penalties provided under labour laws indicates that the lowest punishment for engaging child labour is in Islamabad Capital Territory and Balochistan, which is Rs500. Other provinces have raised penalties to Rs50,000. The brick kiln law in Punjab raises the maximum penalty to Rs0.5 million.
Recent child labour legislation in Punjab and Sindh also prohibits engagement of children in the worst forms of child labour and imposes stringent penalties. The worst forms are generally regulated and prohibited under the Pakistan Penal Code 1860 and the Prevention, Control of Human Trafficking Ordinance 2002 and the provincial child protection legislation. The involvement of children in armed conflict, human and drug trafficking, begging and other illicit activities, such as debt bondage and pornography are considered the worst forms. The provisions of child labour legislation contradict the penalties provided under the Penal Code. Moreover, it is not clear whether compliance with the provisions in child labour legislation would be ensured by the labour or home departments and the police since none of the worst forms include formal employer-employee relationship. Similarly, what would happen to the Child Protection and Welfare Bureau in Punjab and Child Protection Authority in Sindh?
The Punjab Prohibition of Child Labour at Brick Kilns Act of 2016 and the Punjab Restriction on Employment of Children Act of 2016 hold a parent jointly responsible for violation of legal provisions along with an employer. However, the employers could exploit the joint liability rule to oppress the poor parents/workers.
While the intentions of lawmakers are to eradicate child labour from the country, no tangible results can be achieved until the aforementioned inconsistencies are removed. Laws simply cannot have contradictory provisions with regard to cut-off age for employment and setting a higher compulsory education age while a lower age for admission to work. Similarly, laws cannot have different penalties for the same crime under different laws. Unless coherent reforms are initiated, eradication of child labour will remain an elusive dream.