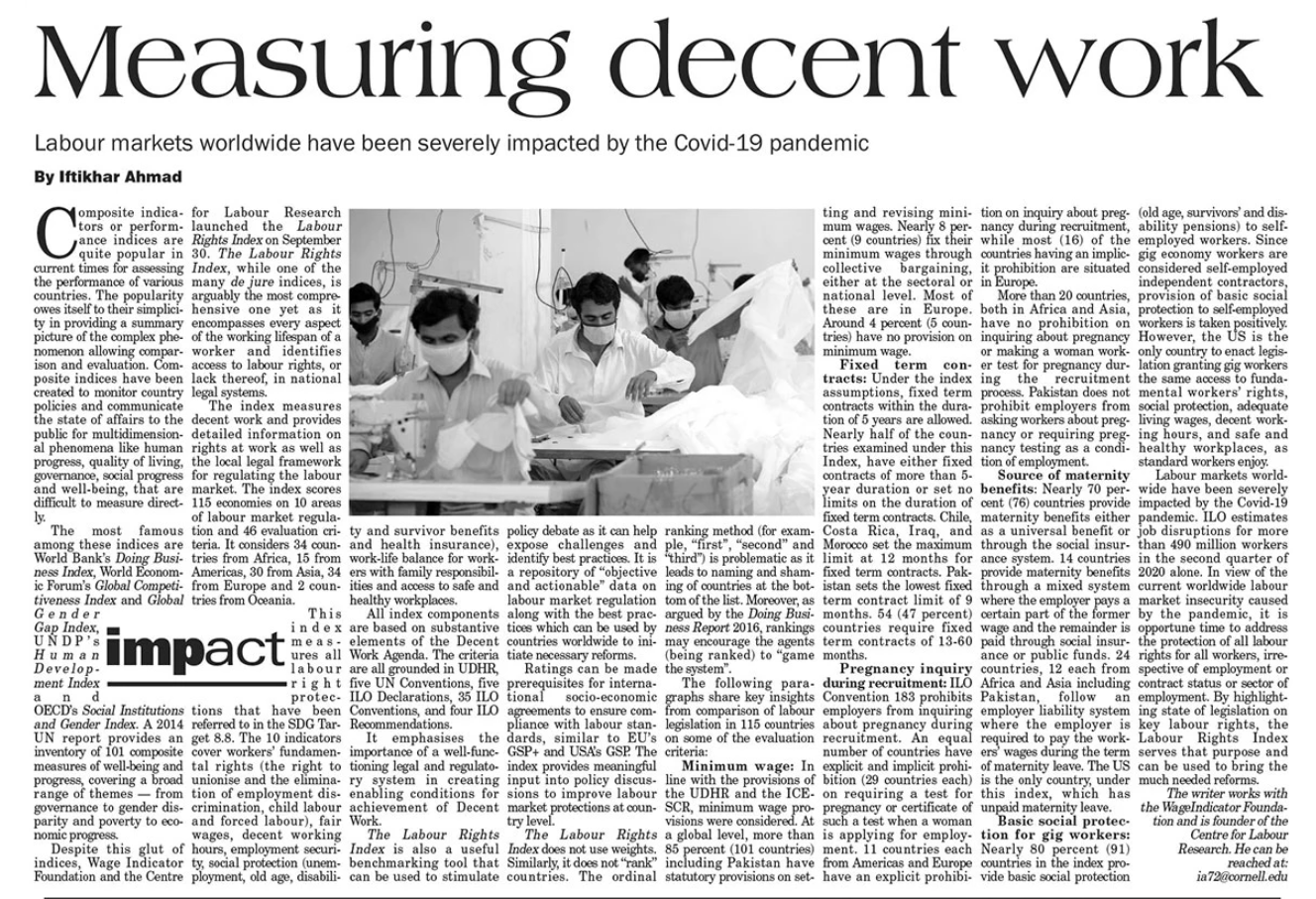 Composite indicators or performance indices are quite popular in current times for assessing the performance of various countries. The popularity owes itself to their simplicity in providing a summary picture of the complex phenomenon allowing comparison and evaluation. Composite indices have been created to monitor country policies and communicate the state of affairs to the public for multidimensional phenomena like human progress, quality of living, governance, social progress and well-being, that are difficult to measure directly.
The most famous among these indices are World Bank's Doing Business Index, World Economic Forum's Global Competitiveness Index and Global Gender Gap Index, UNDP's Human Development Index and OECD's Social Institutions and Gender Index. A 2014 UN report provides an inventory of 101 composite measures of well-being and progress, covering a broad range of themes — from governance to gender disparity and poverty to economic progress.
Despite this glut of indices, Wage Indicator Foundation and the Centre for Labour Research launched the Labour Rights Index on September 30. The Labour Rights Index, while one of the many de jure indices, is arguably the most comprehensive one yet as it encompasses every aspect of the working lifespan of a worker and identifies access to labour rights, or lack thereof, in national legal systems.
The index measures decent work and provides detailed information on rights at work as well as the local legal framework for regulating the labour market. The index scores 115 economies on 10 areas of labour market regulation and 46 evaluation criteria. It considers 34 countries from Africa, 15 from the Americas, 30 from Asia, 34 from Europe and 2 countries from Oceania.
This index measures all labour right protections that have been referred to in the SDG Target 8.8. The 10 indicators cover workers' fundamental rights (the right to unionise and the elimination of employment discrimination, child labour and forced labour), fair wages, decent working hours, employment security, social protection (unemployment, old age, disability and survivor benefits and health insurance), work-life balance for workers with family responsibilities and access to safe and healthy workplaces.
All index components are based on substantive elements of the Decent Work Agenda. The criteria are all grounded in UDHR, five UN Conventions, five ILO Declarations, 35 ILO Conventions, and four ILO Recommendations.
It emphasises the importance of a well-functioning legal and regulatory system in creating enabling conditions for the achievement of Decent Work.
The Labour Rights Index is also a useful benchmarking tool that can be used to stimulate policy debate as it can help expose challenges and identify best practices. It is a repository of "objective and actionable" data on labour market regulation along with the best practices which can be used by countries worldwide to initiate necessary reforms.
Ratings can be made prerequisites for international socio-economic agreements to ensure compliance with labour standards, similar to EU's GSP+ and USA's GSP. The index provides meaningful input into policy discussions to improve labour market protections at the country level.
The Labour Rights Index does not use weights. Similarly, it does not "rank" countries. The ordinal ranking method (for example, "first", "second" and "third") is problematic as it leads to naming and shaming of countries at the bottom of the list. Moreover, as argued by the Doing Business Report 2016, rankings may encourage the agents (being ranked) to "game the system".
The following paragraphs share key insights from comparison of labour legislation in 115 countries on some of the evaluation criteria:
Minimum wage: In line with the provisions of the UDHR and the ICESCR, minimum wage provisions were considered. At a global level, more than 85 percent (101 countries) including Pakistan have statutory provisions on setting and revising minimum wages. Nearly 8 percent (9 countries) fix their minimum wages through collective bargaining, either at the sectoral or national level. Most of these are in Europe. Around 4 percent (5 countries) have no provision on minimum wage.
Fixed-term contracts: Under the index assumptions, fixed-term contracts within the duration of 5 years are allowed. Nearly half of the countries examined under this Index, have either fixed contracts of more than 5-year duration or set no limits on the duration of fixed-term contracts. Chile, Costa Rica, Iraq, and Morocco set the maximum limit at 12 months for fixed-term contracts. Pakistan sets the lowest fixed-term contract limit of 9 months. 54 (47 percent) countries require fixed-term contracts of 13-60 months.
Pregnancy inquiry during recruitment: ILO Convention 183 prohibits employers from inquiring about pregnancy during recruitment. An equal number of countries have explicit and implicit prohibition (29 countries each) on requiring a test for pregnancy or certificate of such a test when a woman is applying for employment. 11 countries each from Americas and Europe have an explicit prohibition on an inquiry about pregnancy during recruitment, while most (16) of the countries having an implicit prohibition are situated in Europe.
More than 20 countries, both in Africa and Asia, have no prohibition on inquiring about pregnancy or making a woman worker test for pregnancy during the recruitment process. Pakistan does not prohibit employers from asking workers about pregnancy or requiring pregnancy testing as a condition of employment.
Source of maternity benefits: Nearly 70 percent (76) countries provide maternity benefits either as a universal benefit or through the social insurance system. 14 countries provide maternity benefits through a mixed system where the employer pays a certain part of the former wage and the remainder is paid through social insurance or public funds. 24 countries, 12 each from Africa and Asia including Pakistan, follow an employer liability system where the employer is required to pay the workers' wages during the term of maternity leave. The US is the only country, under this index, which has unpaid maternity leave.
Basic social protection for gig workers: Nearly 80 percent (91) countries in the index provide basic social protection (old age, survivors' and disability pensions) to self-employed workers. Since gig economy workers are considered self-employed independent contractors, provision of basic social protection to self-employed workers is taken positively. However, the US is the only country to enact legislation granting gig workers the same access to fundamental workers' rights, social protection, adequate living wages, decent working hours, and safe and healthy workplaces, as standard workers enjoy.
Labour markets worldwide have been severely impacted by the Covid-19 pandemic. ILO estimates job disruptions for more than 490 million workers in the second quarter of 2020 alone. In view of the current worldwide labour market insecurity caused by the pandemic, it is opportune time to address the protection of all labour rights for all workers, irrespective of employment or contract status or sector of employment. By highlighting state of legislation on key labour rights, the Labour Rights Index serves that purpose and can be used to bring the much-needed reforms.