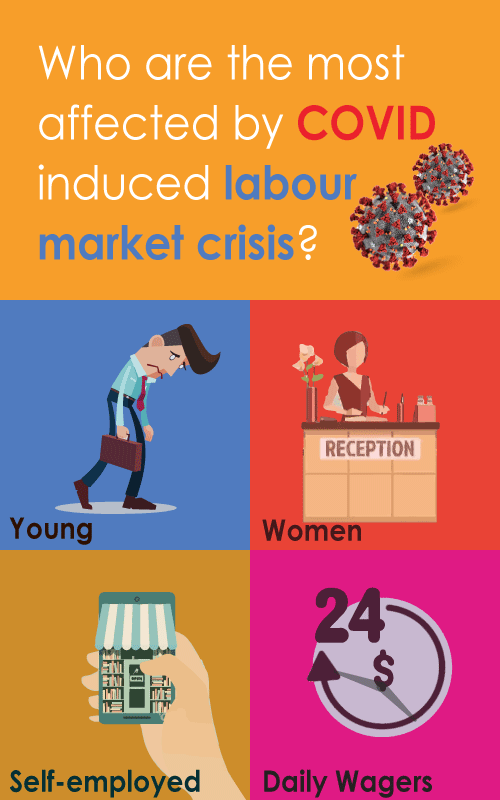 Coronavirus (COVID-19) has led to a labour market crisis in Pakistan. The services sector is the hardest hit sector, especially tourism and hospitality, education and transport sectors. Daily wage, piece rated workers as well as self-employed workers are the worst affected.
There are nearly 2,257,000 confirmed cases of Coronavirus pandemic worldwide….
Nearly 154,350 have lost lives in at least 185 countries…
Pakistan also has nearly 7,5000 confirmed cases of which 143 have already passed away.
Services sector is the hardest hit sector, especially tourism and hospitality, education and transport sectors.
Daily wage, piece rated workers as well as self-employed workers are the worst affected.
Government of Pakistan needs to take certain action to limit the negative impact of COVID-19 on labour markets by protecting the already marginalised and vulnerable, i.e., young workers, elderly, women, persons with disabilities and daily wagers.
---
There are nearly 2,257,000 confirmed cases of Coronavirus pandemic (COVID-19) worldwide. Nearly 154,350 have lost lives in at least 185 countries. Pakistan also has more than 7,500 confirmed cases of which 143 have already passed away.
Provincial governments are taking actions by closing down wedding halls, restaurants, hotels and shopping malls. The Federal Government announced the closure of all schools, colleges, universities and madrassahs throughout the country till 5 April 2020. Sindh has decided for a complete 15-day lockdown with effect from 23 March 2020.
On 23 March, Government of Punjab also announced a 14-day partial lockdown in the province. On 14 April, the provincial lockdowns were further extended till 28 April.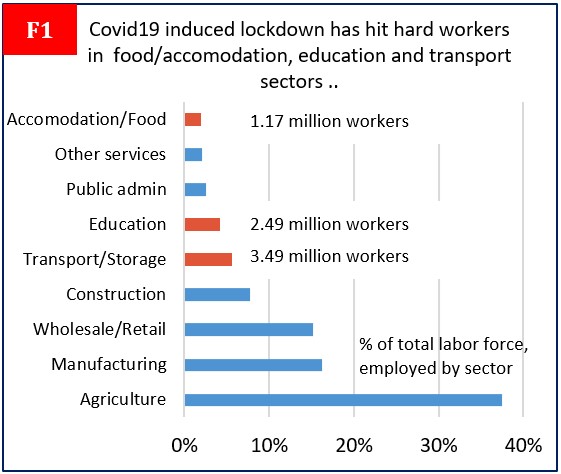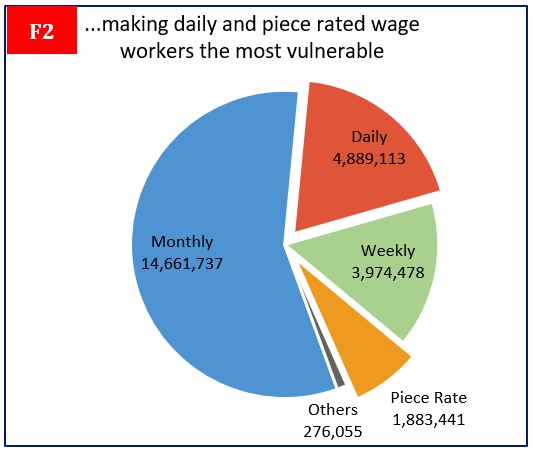 Other than being a medical emergency, COVID-19 is also becoming a labour market emergency as many are losing their jobs. The more vulnerable are daily wage labourers and all such workers who are either working on a piece-rate basis and those working with on-demand service providers like Uber, Careem, Mauqua, Gharpar, etc. ILO has estimated that the "economic and labour crisis created by the COVID-19 pandemic could increase global unemployment by 5 million to 25 million".
Before we discuss the issues in detail, let's have a cursory look at Pakistan's labour market. Under the 2017 Census, Pakistan has a population of 207 million of which 20 million (about 10%) are elderly, aged 50 and above. Nearly 9.5 million of these 20 million are engaged in the labour force. Pakistan has a labour force of 63 million (aged 15 years and above) of which 3.6 million (6%) are already unemployed. The services sector, be it food and accommodation services (tourism and hospitality industry), educational institutions, retail, and the transportation sector, has been the worst hit. The share of services in total employment is nearly 40%. The Labour Force Survey of 2018 indicates that 1.18 million workers are engaged in the food and accommodation sector. Those working in the education sector are 2.5 million, while the transport and storage sector alone employs 3.5 million.
Labour Market Shocks of COVID-19
While protecting workers and their families from this pandemic should be the first priority, demand-side measures are also needed to protect those facing income losses because of infection or reduced economic activity. There are three aspects of COVID-19 created labour market shock: the number of jobs is declining due to closures leading to increased unemployment and underemployment; the quality of employment is worsening due to lack of income replacement programs in the event of sickness or unemployment, i.e., lack of social protection; and it is disproportionately impacting the already vulnerable including elderly, women, persons with disabilities and own-account workers.
COVID-19 is both a supply-side and demand-side shock and is poised to impact small and medium enterprises the most. Interestingly most of the enterprises in Pakistan are microenterprises, employing less than ten workers. These are also the enterprises which would find it challenging to comply with cumbersome legislative commandments. The private non-agriculture sector engages 29 million workforce. Of these, 25 million are working in enterprises employing less than six workers.
Data further show that of the 25.7 million wage employees, only 14.6 are monthly paid workers. Remaining 11 million are either daily wagers (5 million), weekly earners (4 million) and piece-rated workers (1.8 million). Due to the closures, many of these casually and irregularly paid workers have lost their jobs. The estimated unemployment increase is at least 2 million (20% of the casually employed workforce). These estimates are conservative since we are not taking into account livelihood losses for self-employed workers like street vendors and gig workers. Similarly, these estimates do not take into account much of the manufacturing sector, which will bear the brunt of shock once foreign orders start cancelling.As estimated above, job losses can be around 2 million. Generally, unemployed would engage in self-employment or move to another location. However, considering the imminent lockdowns and curfew-like situations, this might also not be possible.
More than 56% of overall employment in Pakistan is vulnerable employment (a combination of own account and contributing family workers). Vulnerable workers are less likely to have formal work arrangements leading to lack of decent working conditions, adequate social security and representation by trade unions and similar organizations. Vulnerable employment generally encompasses inadequate earnings, low productivity and difficult conditions of work. It is also a measure of precariousness of employment. Youth (15-24 years) unemployment rates have always been higher than the general unemployment rate. Under LFS 2018, youth unemployment is estimated at 11%. It will further increase after the COVID induced lockdowns. 
Due to increased unemployment, poverty headcount will also increase. The latest official figures on poverty are from 2016, which indicated that 24.3% of the total population was living below the national poverty line.
The particularly vulnerable under the current condition are elderly and those with pre-existing health conditions, women workers (teachers, care workers, travel and tourism workers), persons with disabilities, and own-account (self-employed) workers like street vendors and gig workers engaged with different digital labour platforms. Coronavirus has brought to the fore critical workplace issues. These include access to healthcare, paid sick leave, job security during illness, access to unemployment benefits, and access to safe workplaces along with free protective equipment.
Labour legislation and COVID-19
Labour legislation in Pakistan does have the provision for paid sick leave for eight days (on full wages) or 16 days (on half wages). Employment is secure only for these days. If a worker is registered with a social security institution, they have access to 121 days of sickness benefit. Workers, once registered with social security institutions, also have access to healthcare through state-run hospitals. A 2017 report by ILO, however, indicated that less than 2 million workers are registered with social security institutions. While legislation requires free protective equipment to the worker dealing with hazardous substances, there has been no notification from provincial labour departments requiring employers to provide masks and hand sanitizers after the outbreak of COVID-19. There is no unemployment benefit system in Pakistan; hence, those losing their jobs are on their own.
Here is what the Government should do:
Implement WHO guidelines at workplaces to protect workers and minimize the direct effect of coronavirus. While Punjab and Sindh have already enacted occupational safety and health legislation, other provinces are still lagging. Work Councils, provided under the industrial relations legislation, as well as OSH Committees, to be constituted under the OSH legislation can play a role in awareness-raising on social distancing and other hygiene measures at workplaces. Health and safety provisions from Factories legislation should be applied earnestly.
Non-essential workplaces can also be closed for a period of two weeks. The essential services in the current scenario include health and related services, food and related industry, grocery and convenience stores, municipal and utility services, banks, petrol pumps, etc.
Protect employment through incentives. Those workers and enterprises negatively impacted by the coronavirus, especially in the manufacturing and services sectors, should be protected through the extension of paid sick leave to one month. Governments should ensure that workers suffer no wage losses due to quarantine or isolation.
The government can reduce or waive off payroll taxes for March and April to those enterprises who retain their workforce. The government may also announce time-bound tax relief measures for enterprises who announce job-sharing schemes. Similar financial benefits can be announced for all such enterprises which register their workers with social security institutions. Labour legislation in Pakistan provides a procedure for laying-off workers in the event of a catastrophe or an epidemic. Under this, workers are allowed 50% of their wages during the first 14 days of lay-off. The government should enforce this provision of labour law.
Provide Unemployment benefits. The Government can start giving unemployment benefits (at least equivalent to a minimum wage of 17,500 per month) to unemployed and initiating public employment programmes. Local government system can help in identifying individuals who lost their employment due to the enterprise closures or cancellation of public events. Workers Welfare Fund, an attached department of Ministry of Overseas Pakistanis and Human Resource Development, has an available fund of 120 billion rupees. An unreconciled amount of 48 billion rupees of the Workers Welfare Fund is also available in the Federal Consolidated Fund which is managed by the Finance Division. This can be used to initiate the emergency unemployment benefits program in the country. Later on, the unemployment benefits can be based on the social insurance system where both workers and employers should contribute.
Make Social Protection a Fundamental Right. Recently, the Ehsaas Policy Statement had mentioned the government's aspiration to introduce a new constitutional amendment to move article 38(d) from the "Principles of Policy" section into the "Fundamental Rights" section. This change would make provision of food, clothing, housing, education and medical relief for citizens who cannot earn a livelihood due to infirmity, sickness or unemployment, a state responsibility. The time to introduce such constitutional change is now since healthcare, sickness benefits and unemployment benefits are the most needed now.
Give legal cover to the teleworking and flexible work. There is a dire need to give legal cover to teleworking and flexible work time arrangements, not only for the duration of the coronavirus pandemic but for the later times to reconcile work and family.
Engage in Social Dialogue. Tripartite social dialogue, both at the federal and provincial level, must be initiated to develop sustainable solutions to the various workplace issues emerging in the wake of COVID-19. Pakistan already has federal and provincial tripartite committees whose online meetings must be called at the earliest to discuss issues of health and safety, paid sick leave and its extension, job losses, unemployment benefits, and issues of workplace discrimination and stigmatization due to infection.
Taking these steps, government can still limit the negative impact of COVID-19 on the labour market in Pakistan. Social Protection Framework is still pending approval of the Prime Minister. Social protection should be accessible to all irrespective of employment status, contract type or level of remuneration.
Best Practices from Around the Word
Government Actions
Wage Replacement Programs
Depending on the evolution of the COVID-19 pandemic (one to three months), the Argentinian government will pay a portion of workers' wages in Argentina. 
Azerbaijan has increased the salaries of health sector workers from three to fivefold. 
In China, the Government instructed the businesses to make full salary payments to all such workers who were unable to work due to quarantine or illness, caused by COVID-19. 
Denmark has asked employers not to terminate employment contracts of workers due to a decrease in economic activity. The state will pay 75% (monthly paid workers) to 90% (hourly-paid workers) of the worker's wage. 
Pakistan (Federal Government) has announced a relief package of 3,000 rupees per month for 7 million daily wage workers. 
Government of Sindh, Pakistan has instructed the employers not to layoff any workers during the lockdown and pay workers their full wages during this period.
Paid Sick Leave and Extensions
Bolivia, under a bi-Ministerial Resolution to Prevent Coronavirus at Workplace, has allowed exceptional temporary leave to all such workers employed in the sectors that are more exposed to the virus. 
In Bolivia, Workers infected with the Coronavirus are to be granted medical leave from their work for a duration to be determined by the corresponding health authority. 
Telework (Work from Home)
Azerbaijan has required workers aged 60 and above to work from home. 
 
Unemployment Benefits
Australian Government will provide a temporary Coronavirus Supplement of $550 a fortnight to new and existing income support recipients from 27 April 2020 for six months. People will receive their usual payment plus $550 each fortnight for the six month period.
Depending on the evolution of the COVID-19 pandemic (one to three months), the Argentinian government will take steps to strengthen unemployment insurance. 
In China, the requirements for access to the unemployment benefits were relaxed to provide benefits to the unemployed. 
Enterprise Support
Depending on the evolution of the COVID-19 pandemic (one to three months), the Argentinian government will suspend social insurance contributions and provide financial assistance to the SMEs. 
In China, Government exempted SMEs from social contributions in all provinces (February to June 2020) except in Hubei Province where all types of enterprises are exempted from social contributions for pensions, unemployment and work injury insurance. For large enterprises, the contribution rates have been reduced. 
Since workers with the least likelihood of having paid sick leave include low-wage earners, service workers, informal workers, and gig economy workers, there is a need for measures which do not aggravate economic inequality. For instance, as part of a $4.7 billion incentive package, the government of Malaysia is seeking to provide cash handouts to workers forced to take unpaid leaves, alongside reducing electricity payments for many industries, such as tourism.
Enterprise level Actions
In order to meet the increased demand for online shopping, Amazon plans to hire 100,000 more warehouse and delivery workers in the United States alone. It has also hiked the hourly rate for associates to US$17 from US$15.
Moreover, the overtime rate beyond 40 hours per week has been raised from 1.5 times to double the regular hourly rate for all hourly associates working in the U.S. Ops network. The temporary increased overtime payment is effective from 15 March to 9 May 2020.
In order to meet the increased demand for online shopping, Walmart has already hired 150,000 workers and plans to hire 50,000 more workers. 
Self Employed Workers
Uber is providing financial assistance to its partners (who drive or deliver with Uber) who are diagnosed with COVID-19 or placed in individual quarantine by a public health authority or are placed under self isolation. The partners shall have access to 14 days of paid leave, based on their average daily earnings over the past 6 months. A worker whose average daily earning is 2,000 rupees will be paid 28,000 rupees for the 14-day period.
Sources
Government of Pakistan http://covid.gov.pk/
JHU Coronavirus Resource Center https://coronavirus.jhu.edu/map.html
Labour Force Survey 2018, Pakistan Bureau of Statistics
https://www.hrw.org/news/2020/03/19/human-rights-dimensions-covid-19-response#_Toc35446590

World Economic Forum "Here's what 4 countries are doing to help workers and companies during coronavirus," 21:00, March 18, 2020 https://www.facebook.com/worldeconomicforum/videos/209294066984529/

https://www.axios.com/how-uber-lyft-will-compensate-drivers-covid-19-056141e6-6ad3-4cff-a837-c4e061d9ac47.html
https://www.uber.com/blog/supporting-you-during-coronavirus/
https://www.uber.com/pk/ur/coronavirus/
https://www.mintrabajo.gob.bo/index.php/comunicacion/1258-resoluci%C3%B3n-bi-ministerial-de-acciones-para-prevenir-coronavirus-en-%C3%A1mbito-laboral.html
https://www.twobirds.com/en/news/articles/2020/denmark/covid-19-guidance-for-employers-in-denmark
https://www.dss.gov.au/about-the-department/coronavirus-covid-19-information-and-support
https://www.channelnewsasia.com/news/business/exclusive–amazon-raises-overtime-pay-for-warehouse-workers-12563800